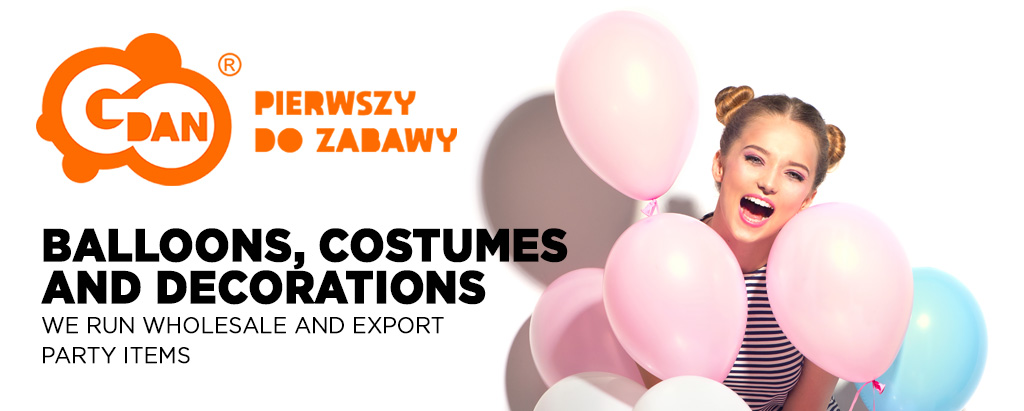 We run wholesale and export:
Balloons – we are one of the largest distributors of helium and latex balloons in Central and Eastern Europe. We buy products directly from the best manufacturers in the world.
Carnival costumes and accessories – we are both a manufacturer and direct importer of carnival outfit, costumes and disguises etc. We also offer accessories for disguises, including: wigs, masks, crowns, hats, artificial eyelashes, moustaches etc.
Accessories to decorate the room (garlands, birthday banners, lanterns, rosettes, pompoms, streamers).
Table decoration articles (e.g. paper cups, saucers, napkins, cutlery, cocktails, straws, birthday candles)
Party items and gifts (e.g. gift bags, confetti, streamers, trumpets, invitations and greeting cards, bows and other packaging articles, decorative boxes, gifts, toys, souvenirs)

We have prepared a separate platform (website) for our trading partners, wholesale buyers and exporters – the Contractor's desktop.
Thanks to it:
you will find out first about all our new products on offer,
you will have access to the entire GoDan offer 24/7,
you will easily and quickly order products from our offer,
you will receive specially discounted prices for wholesale contractors.

If you do not have a login and password to your Contractor's desktop, please contact our sales department:
tel.: +48 22 721 26 96 or export@godan.pl
Wholesale shopping regulations.
Please contact us:
Shop GoDan:
Cash & Carry
ul. Poznańska 138
05-850 Ożarów Mazowiecki
Welcome:
Mon-Wed, Fri: 8:00 – 16:30
Thu: 8:00 – 20:00
Sat: 8:00 – 14:00








Pulpit Kontrahenta
Zamówienia hurtowe dla partnerów firmy GoDan